ESBE LAUNCHES LEAD-FREE GENERATION OF VALVE SERIES VTA300
2022-04-26
ESBE launches lead-free models of the popular thermostatic mixing valve series VTA300.
Lead is an element with high density, low melting point and a relative inertia against oxidation. The substance is traditionally used as an alloying element in brass because a low addition of lead improves the cutability, gives a finer surface and reduces wear on tools. Brass has long been used in the manufacture of, for example, water taps, fittings and connection kits – not least with us at ESBE.
Well, maybe you're thinking. That sounds good, doesn't it? Well, good can get better, we say.
Lead is very toxic to us humans and our environment. How can we reduce the already low level of lead in brass? This is something that we at ESBE, companies and authorities around the world are thinking about. Here are some examples of how the presence of lead has been banned in various products in Sweden, according to the Swedish Chemicals Agency's website.
"Lead is a very toxic substance that is prohibited in some articles. Lead is prohibited in gasoline, paint, toys, electrical products and jewellery. As of June 2016, it is also forbidden in all articles that children can put in their mouths. Lead is also forbidden in shot for hunting in wetland areas and for sport shooting, for example, clay pigeon shooting."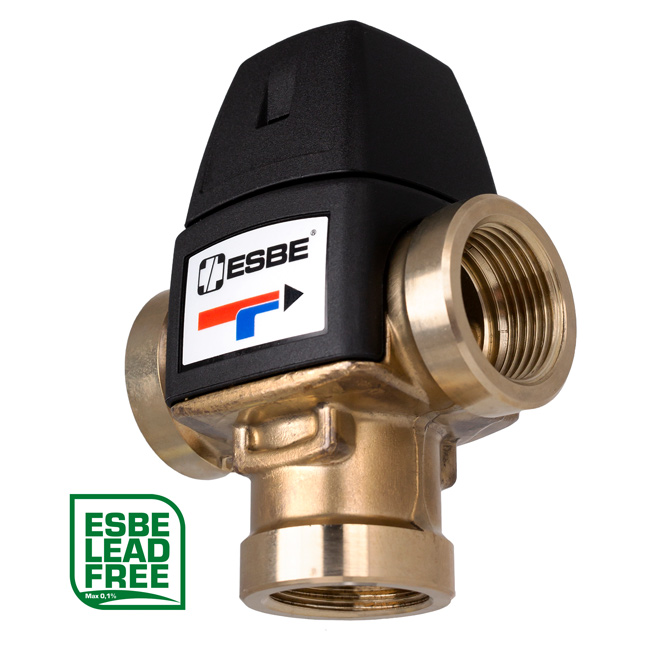 The EU's Drinking Water Directive affects Swedish legislation
A new EU directive came into force in January 2021, the 'Drinking Water Directive'. The new directive is a minimum directive, which means that EU Member States can decide stricter directives on their own regarding the amount of lead in drinking water. At the time of writing, April 2022, the scope of the Swedish Drinking Water Directive has not yet been decided. However, it has been decided that the new Swedish changes will take effect on 1 January 2023.
ESBES brass products contain lead below recommended limits. Despite these very low levels, we decided to develop lead-free products (with a maximum of 0.1 percent lead). The thermostatic mixing valve series VTA300 LF is first out.
ESBE develops products with sustainability in mind
For us at ESBE, it's natural to work with our environment in mind. That is what we have been doing since the start over 115 years ago. For us, relationships do not just consist of empty words – no, a relationship is something that has developed over time. Probably this is because we are still in the same place where it all started – in the small southern community Reftele. Our ties with both nature and people here are deep and genuine.
ESBE's values show the way
Energy saving, Comfort, Safety, Long-term strategy, leadership and Compassion have been on ESBE's agenda for a long time. In other words, you can be sure that a product from ESBE is a sustainable product for a long time to come.

Benefits of choosing thermostatic mixing valves from ESBE
Safe, proven products
Long life span as well as durability
Energy efficient
Highly accurate temperature control
Anti-scald protection
Easy and fast installation
Tested and meets current requirements
Choice of material for the least possible impact on the environment and health
Valve body of 80% recycled brass
The link takes you to ESBE's product range. There you will find information and technical data regarding our whole range of thermostatic mixing valves.
Related articles