ESBE SLD130 | MOTORIZED TAP WATER VALVE WITH OPTIONS
2023-02-21
Fast, reliable, and stylish. That's how the ESBE series SLD130 can be described in three words.

To meet the needs of both the plumber and the property owner, ESBE has developed the motorized, super-fast diverting and mixing valve series SLD130. As a plumber, you will appreciate the flexibility and possibilities. As a property owner, you will love the valve's appearance, speed, and safety.
Traditionally, thermostatic mixing valves are used when hot water is to be distributed. ESBE's control valve series SLD130 is electric and regulates the potable hot water both with high speed and accuracy, so if you want better control – get to know the ESBE series SLD130. The valve offers both a very short running time, materials safe for drinking water and the possibility to easily flush the system to create an inhospitable environment for the legionella bacteria.
In what way is the ESBE series SLD130 also a safe mixing valve?
There are various safety aspects when talking about the work of a valve. If we check the materials that the SLD130 is made of, they are selected with great care.
• The lead content of the brass is within the applicable limit values according to the new 'Drinking Water Directive'
• The valve meets the requirements for dezincification resistance
• The composite parts of the valve are made of material approved for drinking water
But it's not only the materials that provide safety. When you are looking for a valve that best regulates the supply temperature of domestic hot water, the SLD130 is an excellent choice. With a motorized valve in the tap water circuit, it's easy to handle temporary temperature increases to flush the legionella system.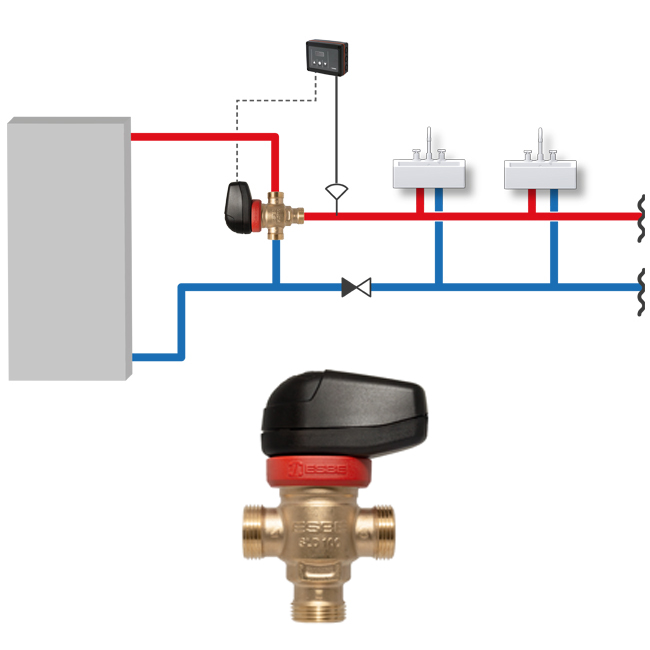 Combine ESBE series SLD130 with a controller, and it can be used to mix the required temperature of your potable hot water. The SLD13's motorized valve makes it easy to temporarily raise the water temperature. This ensures that the system is legionella-free.
Benefits with the ESBE series SLD130
In addition to the SLD130 being a stylish and streamlined valve, it offers impressive performance. Thanks to the fact that the integrated motor (actuator) rotates freely in relation to the valve, the ESBE series SLD130 can be mounted in cramped spaces – for example in a shallow cabinet. The fact that the actuator is integrated also makes the valve easy to install because you never have to think about the position in which the actuator and the valve end up in relation to each other.
• Materials approved for potable hot water
• Slender and compact
• Stylish and first-class design
• Three different sizes – for different applications
• Outstanding flow characteristics
• Integrated actuator that rotates freely (180°)
• Maintenance free
• Reliable
• No replaceable parts
• High speed and accuracy
• Running time, only 1 second
• Can be used both as a mixing valve and a change-over valve
• Few parts and few steps for smooth installation

Did you know this about the ESBE series SLD130?
Although we like to market the ESBE series SLD130 as a valve for potable hot water, it works just as well to control a heating system.
The link takes you to ESBE's product range and technical data for the SLD130 series
Related articles
ESBE tip | Avoid stagnant water in the hot water pipes »