MEET ESBE'S AMBASSADOR, DAGMAR HUBER
2021-11-15
For 15 years, Dagmar Huber has worked at ESBE. In the interview, she reveals what makes her feel good. » Take part in Dagmar's views on ESBE as an employer
What are your areas of work as Team Leader for procurement at ESBE's subsidiary in Germany?
"I´m working as procurer at ESBE´s DC in Dachau. The most important duty is to take care for a sufficient stock level at the DC to ensure the ability to deliver to our customers. This includes a forward-looking inventory planning, based on the current trend, but also working with forecasts or other information. "
What does your background look like? What did you do before your employment at ESBE GmbH
"After my apprenticeship as a merchant in wholesale and foreign trade, I completed further training as a commercial specialist and was for long years the responsible for customer service in my training company in Nuremberg."
Why did you apply for the job at ESBE?
"After a movement from Nuremberg to Dachau for family reasons, I was searching for a new challenge. And when I read ESBE´s job advertisement, I thought: This is it! And it worked and 'I´m still here"
How long have you been working here now?
"I have worked at ESBE for 15 years now. Started at customer service and after a few years I took over the procurement."
What does a normal day at work look like?
"Most important routine is to check the daily purchase requisitions, based on the order income or a reached reorder point. The rest is varied and includes stock planning, checking delivery dates, checking the stock level as well as the coordination with other departments, mainly planning department at ESBE AB – but also with our external suppliers."
How would you describe the corporate culture at ESBE?
"ESBE is a longstanding family company with a future-oriented orientation and planning."
What characterizes ESBE as an employer?
"ESBE takes care of the employees, offers opportunities for further development and there is enough free space for you to work on own responsibility."
What is the best thing about your job?
"There is the variety of my job and the international orientation. Not to forget the perfect teamwork with the colleagues here at GmbH."
What do you think ESBE customers could see as enticing when taking in information about ESBE?
"ESBE can look back to more than 100 years development and is a leading European manufacturer. What to say more?"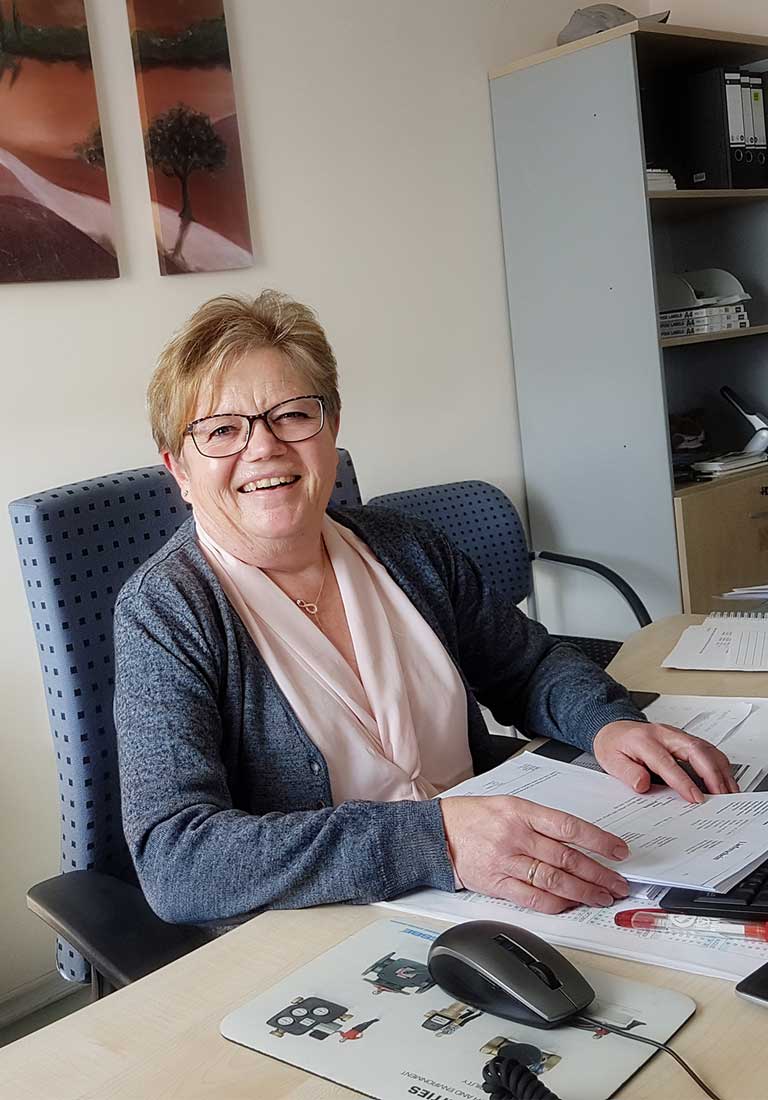 DAGMAR HUBER, ESBE GmbH,
Teamleitung Beschaffung / Teamleader Procurement
In what way can you see that ESBE is taking a big responsibility regarding sustainability?
"ESBE products are standing for energy saving, comfort and safety. The company always acts with a long-term perspective with focus on goals such as environment, society and economy."
Where do you think ESBE will be in 10 years?
"That´s hard for me to say, since I cannot look in the future. But when I´m looking back and see the significant development and growth of ESBE during the last 10 years I can imagine that ESBE will continue to expand as a leading company at the (global) market."