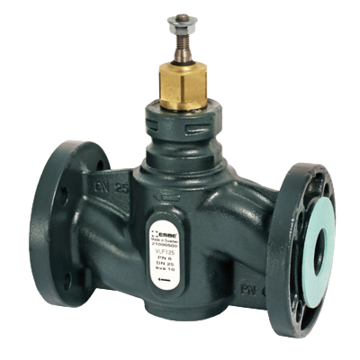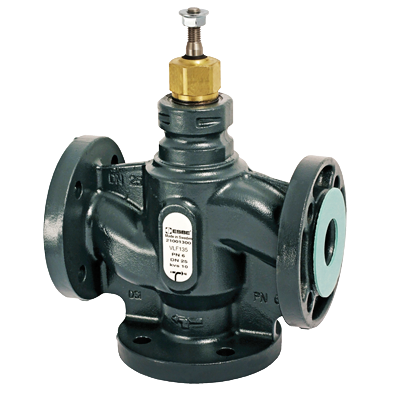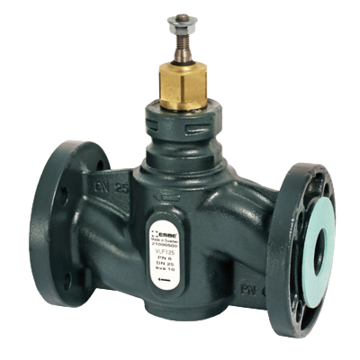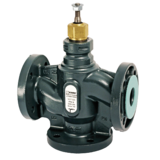 Control valve PN6
VLF100
Superb regulation for best mixing and flow regulating performance up to 6 bar (PN6).
Real low internal leakrate and 100% tested product.
Long lasting and high durability.
Perfect match between the valve and ESBE actuators.
Series VLF are 3-way control valves with flange connection PN6, suitable for mixing and flow regulation up to 6 bar. The valves are made of high-performing nodular iron allowing use in heating and cooling installations. The VLF series is available in 3-way DN20-DN50 and comes with a PN6 flange to suit PN6 flange pipe connections. The valve is perfectly combined with ESBE actuators and controllers.
Product range
VLF135, 3-way control valve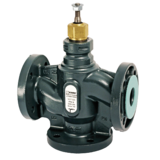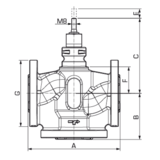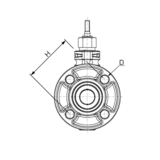 | | | | | | | | | | | | | | |
| --- | --- | --- | --- | --- | --- | --- | --- | --- | --- | --- | --- | --- | --- |
| Art.no. | Reference | DN | Kvs | A [mm] | B [mm] | C [mm] | D [mm] | E [mm] | F [mm] | G [mm] | H [mm] | Rangeability Kv/Kv min | Weight [kg] |
| 21001200 | VLF135 | 20 | 6,3 | 150 | 75 | 126 | Ø11 (4x) | 20 | 41 | 90 | 65 | >50 | 2,9 |
| 21001300 | VLF135 | 25 | 10 | 160 | 80 | 131 | Ø11 (4x) | 20 | 46 | 100 | 75 | >50 | 3,4 |
| 21001400 | VLF135 | 32 | 16 | 180 | 90 | 144 | Ø14 (4x) | 20 | 60 | 120 | 90 | >50 | 6,0 |
| 21001500 | VLF135 | 40 | 25 | 200 | 100 | 146 | Ø14 (4x) | 20 | 61 | 130 | 100 | >50 | 6,5 |
| 21001600 | VLF135 | 50 | 38 | 230 | 115 | 161 | Ø14 (4x) | 20 | 76 | 140 | 110 | >50 | 8,2 |
Technical data
Technical data
| | |
| --- | --- |
| Type: | 3-way plug valve |
| Pressure class: | PN 6 |
| Flow characteristic A-AB: | EQM |
| Flow characteristic B-AB: | Complementary |
| Stroke: | 20 mm |
| Rangeability Kv/Kv min: | see table |
| Leakrate A - AB: | Tight sealing |
| Leakrate B - AB: | Tight sealing |
| ΔP: | see data sheet |
| Media temperature, max.: | +120 °C |
| Media temperature, min.: | -20 °C |
| Connections: | Flange, ISO 7005-2 |
| Conformity: | PED 2014/68/EU, article 4.3 |
| Material, Body: | Nodular iron, EN-JS 1030 |
| Material, Stem: | Stainless steel, SS 2346 |
| Material, Plug: | Brass, CW 602N |
| Material, Seat: | Nodular iron, EN-JS 1030 |
| Material, Blind plug: | Brass, CW 602N |
| Material, Seat seal: | EPDM |
| Material, Packing box seal: | PTFE/EPDM |
Conformity




Dimensioning
Accessories and Spare Parts
Spare parts
| | | | | | |
| --- | --- | --- | --- | --- | --- |
| | Art No. | Reference | Designation | Note | Instruction manual |
| | 27000100 | VLA901 | ESBE VLA901 Exchange kit Packing box | Applies to valve type VLAxxx, VLExxx | |