Actuator
ALB100
Fast running time.
Can be used for both 3-point and proportional control signal.
Position feedback signal.
Perfect match between the actuator and ESBE valve.
Series ALB100 with voltage proportional or 3-point (open / close) signal is an actuator with fast running time and large available force. The electronic circuitry ensure that the working range is automatically adjusted and that the running time is the same, regardless of the stroke of the valve.
Product range
ALB144, 3-point or proportional 24 V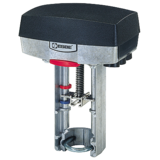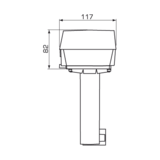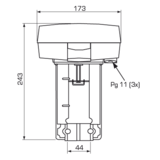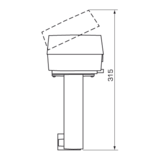 | | | | | | |
| --- | --- | --- | --- | --- | --- |
| Art.no. | Reference | Supply voltage | Force [N] | Power consumption [VA] | Note |
| 22050100 | ALB144 | 24 V AC, 50/60Hz | 800 | 15,0 | 0..10V, 2..10V or 3-point control signal. |
Technical data
Technical data
| | |
| --- | --- |
| Supply voltage: | 24 ± 10% V AC/DC, 50/60 Hz |
| Power consumption: | 15 VA |
| Stroke: | 10-52 mm |
| Force: | 800 N |
| Duty cycle: | max. 20 %/h |
| Output Y, Voltage: | 2-10 V (0-100%) |
| Enclosure rating: | IP54 |
| Weight: | 1,8 kg |
| Ambient humidity: | max. 90% RH |
| Ambient temperature, max.: | +50 °C |
| Ambient temperature, min.*: | -10 °C |
| | * If the actuator is used in applications with media temperatures below 0°C, the valve should be equipped with a stem heater ALF802. |
| Running time by proportional signal, valve with stroke 10-25 mm: | 15 s |
| Running time by proportional signal, valve with stroke 10-32 mm: | 20 s |
| Running time by proportional signal, valve with stroke 10-52 mm: | 30 s |
| Running time by increase/decrease signal: | 300/60 s |
| Material, Cover: | Plastic / Metal |
| Material, Housing: | Aluminium |
Conformity




Wiring
Accessories and spare parts