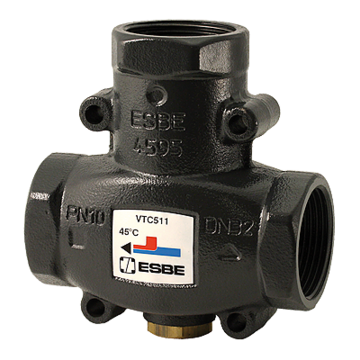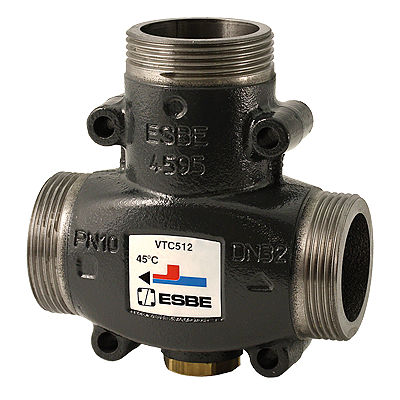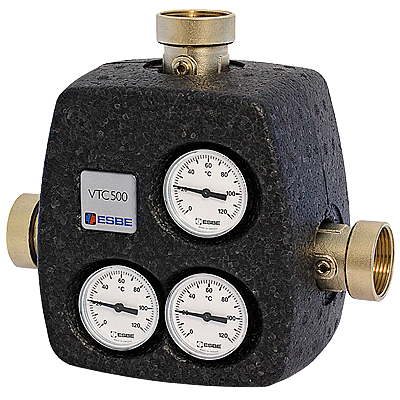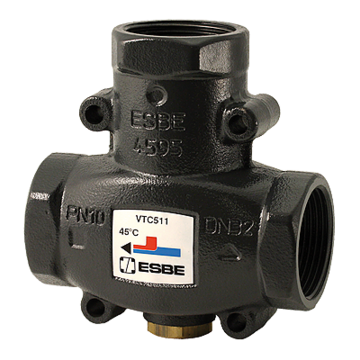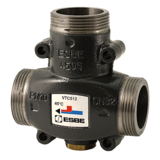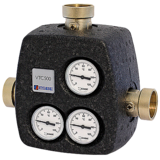 Load valve
VTC500
Accurate control of the return water temperature.
Easy installation. No need of adjustment valve.
Easy but normally not required maintenance.
The series VTC500 is a thermic valve used for solid fuel boilers up to 150 kW. The load valve makes sure that the boiler gets up to a high combustion temperature so as to ensure the lowest possible emissions. Above all, the valves make sure that the return temperature to the boiler is kept high and guaranteed over the entire combustion cycle which enables a higher level of boiler efficiency, reduced tarring and increased life span of the boiler.
Product range
VTC511, Internal thread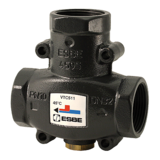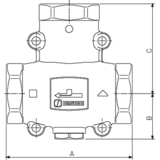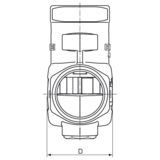 | | | | | | | | | | | | |
| --- | --- | --- | --- | --- | --- | --- | --- | --- | --- | --- | --- |
| Art.no. | Reference | DN | Kvs | Opening temperature | Connection | A [mm] | B [mm] | C [mm] | D [mm] | Weight [kg] | Replaces |
| 51020100 | VTC511 | 25 | 9 | 50°C ± 5°C | Rp 1" | 93 | 34 | 69 | 47 | 0,84 | 11400600 |
| 51020200 | VTC511 | 25 | 9 | 55°C ± 5°C | Rp 1" | 93 | 34 | 69 | 47 | 0,84 | 11400700 |
| 51020300 | VTC511 | 25 | 9 | 60°C ± 5°C | Rp 1" | 93 | 34 | 69 | 47 | 0,84 | 11400400 |
| 51021100 | VTC511 | 25 | 9 | 65°C ± 5°C | Rp 1" | 93 | 34 | 69 | 47 | 0,84 | |
| 51020400 | VTC511 | 25 | 9 | 70°C ± 5°C | Rp 1" | 93 | 34 | 69 | 47 | 0,84 | 11400100 |
| 51020600 | VTC511 | 32 | 14 | 50°C ± 4°C | Rp 1¼" | 105 | 38 | 75 | 55 | 1,4 | 11401100 |
| 51020700 | VTC511 | 32 | 14 | 55°C ± 4°C | Rp 1¼" | 105 | 38 | 75 | 55 | 1,4 | 11401200 |
| 51020800 | VTC511 | 32 | 14 | 60°C ± 4°C | Rp 1¼" | 105 | 38 | 75 | 55 | 1,4 | 11400800 |
| 51021200 | VTC511 | 32 | 14 | 65°C ± 4°C | Rp 1¼" | 105 | 38 | 75 | 55 | 1,4 | |
| 51020900 | VTC511 | 32 | 14 | 70°C ± 4°C | Rp 1¼" | 105 | 38 | 75 | 55 | 1,4 | 11400200 |
VTC512, External thread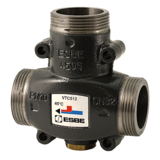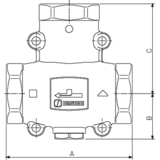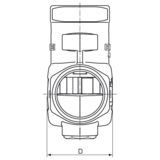 | | | | | | | | | | | |
| --- | --- | --- | --- | --- | --- | --- | --- | --- | --- | --- |
| Art.no. | Reference | DN | Kvs | Opening temperature | Connection | A [mm] | B [mm] | C [mm] | D [mm] | Weight [kg] |
| 51021500 | VTC512 | 25 | 9 | 50°C ± 5°C | G 1¼" | 93 | 34 | 69 | 47 | 0,80 |
| 51021600 | VTC512 | 25 | 9 | 55°C ± 5°C | G 1¼" | 93 | 34 | 69 | 47 | 0,80 |
| 51021700 | VTC512 | 25 | 9 | 60°C ± 5°C | G 1¼" | 93 | 34 | 69 | 47 | 0,80 |
| 51022500 | VTC512 | 25 | 9 | 65°C ± 5°C | G 1¼" | 93 | 34 | 69 | 47 | 0,80 |
| 51021800 | VTC512 | 25 | 9 | 70°C ± 5°C | G 1¼" | 93 | 34 | 69 | 47 | 0,80 |
| 51022000 | VTC512 | 32 | 14 | 50°C ± 4°C | G 1½" | 105 | 38 | 75 | 55 | 1,3 |
| 51022100 | VTC512 | 32 | 14 | 55°C ± 4°C | G 1½" | 105 | 38 | 75 | 55 | 1,3 |
| 51022200 | VTC512 | 32 | 14 | 60°C ± 4°C | G 1½" | 105 | 38 | 75 | 55 | 1,3 |
| 51022600 | VTC512 | 32 | 14 | 65°C ± 4°C | G 1½" | 105 | 38 | 75 | 55 | 1,3 |
| 51022300 | VTC512 | 32 | 14 | 70°C ± 4°C | G 1½" | 105 | 38 | 75 | 55 | 1,3 |
Installation support
Replace thermostat in VTC500
Installation examples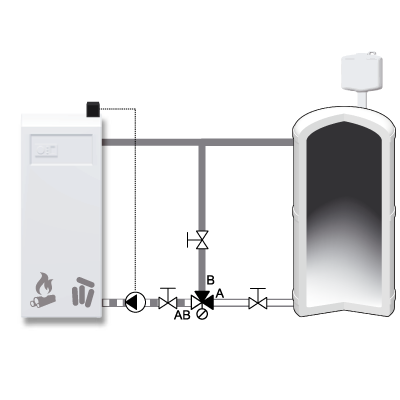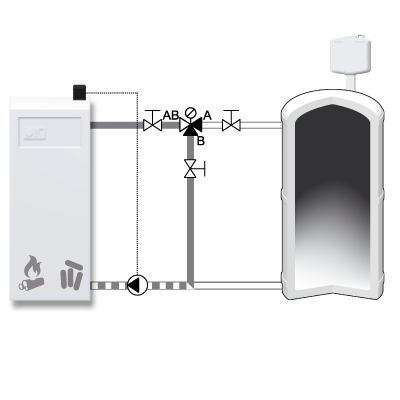 Technical data
Technical data
| | |
| --- | --- |
| Pressure class: | PN 10 |
| Differential pressure, max.: | 100 kPa |
| Differential pressure A - B, max.: | 30 kPa |
| Leakrate A - AB: | max. 1% of Kvs |
| Leakrate B - AB: | max. 3% of Kvs |
| Rangeability Kv/Kv min: | 100 |
| Conformity: | |
| Media, Heating water: | in accordance with VDI2035 |
| Media, Water/Glycol mixtures: | max. 50 % |
| Media, Water/Ethanol mixtures: | max. 28 % |
| Media temperature, max.: | +110 °C |
| Media temperature, min.: | 0 °C |
| Connections, Internal thread (Rp): | EN 10226-1 |
| Connections, External thread (G): | ISO 228/1 |
| Material, Valve body and cover: | Nodular iron, EN-JS 1050 |
Conformity


Flow pattern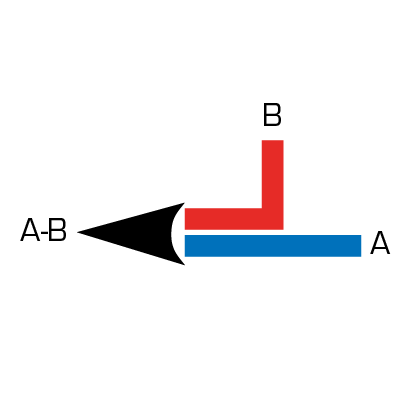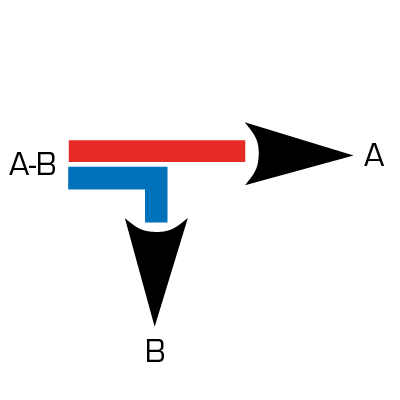 Dimensioning
Accessories and spare parts
Options
| | | | |
| --- | --- | --- | --- |
| | Art No. | Reference | Designation |
| | 57060500 | LTC801 | ESBE LTC801 Shut-off valves / Adapters G1½" x G1", 3pcs. |
| | 57060600 | LTC801 | ESBE LTC801 Shut-off valves / Adapters G1½" x G1¼", 3pcs. |
| | 57060700 | LTC801 | ESBE LTC801 Shut-off valves / Adapters G1½" x G1½", 3pcs. |
| | 57060800 | LTC801 | ESBE LTC801 Shut-off valves / Adapters G1½" x G2", 3pcs. |
| | 57060900 | LTC801 | ESBE LTC801 Shut-off valves / Adapters G1½" x CPF 28mm, 3pcs. |
| | 57020100 | VTC951 | ESBE VTC951 Thermostat 50°C |
| | 57020200 | VTC951 | ESBE VTC951 Thermostat 55°C |
| | 57020300 | VTC951 | ESBE VTC951 Thermostat 60°C |
| | 57020800 | VTC951 | ESBE VTC951 Thermostat 65°C |
| | 57020400 | VTC951 | ESBE VTC951 Thermostat 70°C |
| | 57020600 | VTC952 | ESBE VTC952 Thermometer, 3pcs |
| | 57020700 | VTC953 | ESBE VTC953 Insulation, ≥ DN32 |
Spare parts
| | | | |
| --- | --- | --- | --- |
| | Art No. | Reference | Designation |
| | 57020500 | VTC951 | ESBE VTC951 Thermostat 75°C |
| | 57020900 | LTC922 | ESBE LTC922 Jointing set VTC/LTC, 3pcs of fibre gasket 1½". |