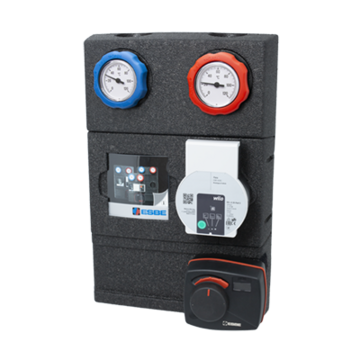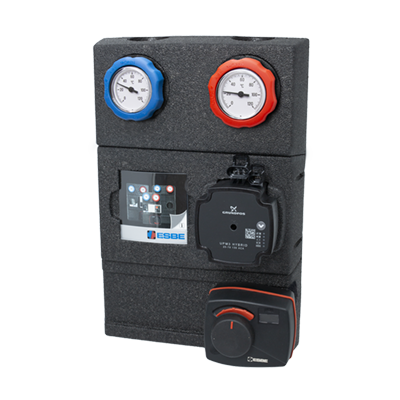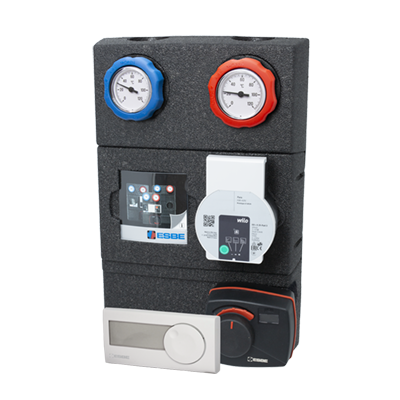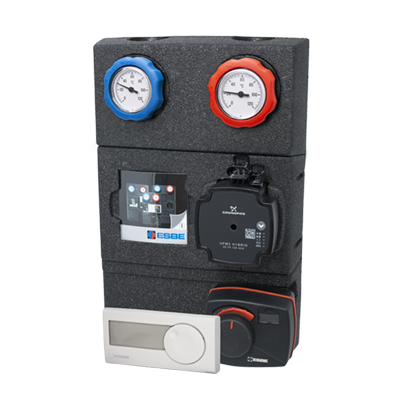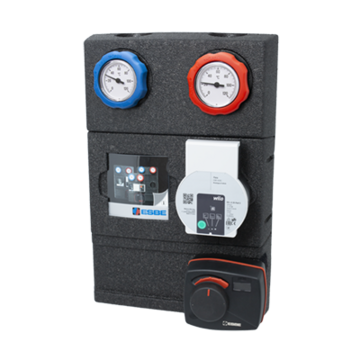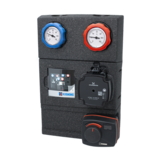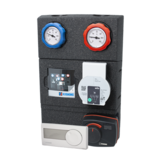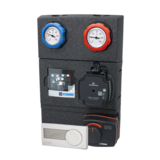 Circulation unit, Mixing function
GRC200
Outstanding flow control thanks to the progressive characteristic of the valve
ESBE Smart Software & Self-Adaptive System
2 types of controller; weather or indoor & outdoor combined
QuickFit interface between actuator and valve - no tools needed
2 different high efficiency PWM circulation pumps
PWM pump control available with 8 different settings
Available in 2 sizes: DN25, DN32
High class insulation shell
Pretested and ready to use
Compact design
The ESBE series GRC200 are circulation units designed for heating circuits where control by weather or indoor/outdoor temperature and pump control is required. Equipped with two shut-off valves with thermometers, check valve, high class insulation shell and high efficiency circulation pump with PWM control signal.
The circulation unit series GRC200 is delivered with a 3-way rotary progressive mixing valve which ensures the best regulation performance independent of flow rate and low risk of oversizing. It is also delivered with a weather compensating controller (GRC220) or combined indoor/outdoor temperature controller (GRC240). The built-in pump control allows for pump control in 8 different ways.
The circulation units series GRC200 are available in DN25 and DN32 with either a Wilo or Grundfos pump.
Product range
GRC221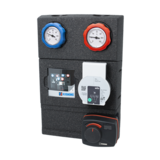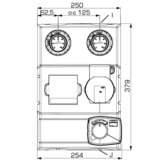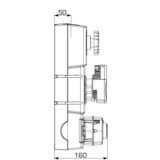 | | | | | | | | | |
| --- | --- | --- | --- | --- | --- | --- | --- | --- |
| Art.no. | Reference | DN | Pump | Controller type | Connection I | Connection J | Weight [kg] | Note |
| 61044100 | GRC221 | 25 | Wilo PARA STG 25/8 | CRC217 | G 1" | G 1½" | 6,1 | Replaces 61040200 |
| 61044200 | GRC221 | 32 | Wilo PARA STG 25/8 | CRC217 | G 1¼" | G 1½" | 6,3 | Replaces 61040700 |
GRC222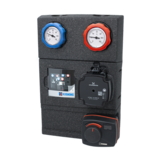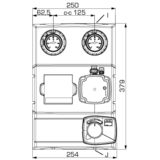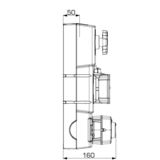 | | | | | | | | | |
| --- | --- | --- | --- | --- | --- | --- | --- | --- |
| Art.no. | Reference | DN | Pump | Controller type | Connection I | Connection J | Weight [kg] | Note |
| 61044300 | GRC222 | 25 | Grundfos UPM3 Hybride 25-70 | CRC217 | G 1" | G 1½" | 6,0 | Replaces 61040900 |
| 61044400 | GRC222 | 32 | Grundfos UPM3 Hybride 25-70 | CRC217 | G 1¼" | G 1½" | 6,3 | Replaces 61041100 |
GRC241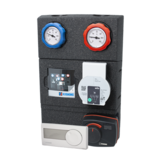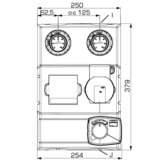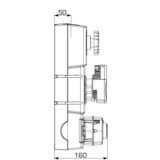 | | | | | | | | | |
| --- | --- | --- | --- | --- | --- | --- | --- | --- |
| Art.no. | Reference | DN | Pump | Controller type | Connection I | Connection J | Weight [kg] | Note |
| 61044500 | GRC241 | 25 | Wilo PARA STG 25/8 | CRD227 | G 1" | G 1½" | 6,3 | Replaces 61041300 |
| 61044600 | GRC241 | 32 | Wilo PARA STG 25/8 | CRD227 | G 1¼" | G 1½" | 6,7 | Replaces 61041400 |
GRC242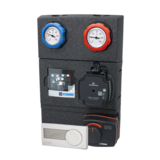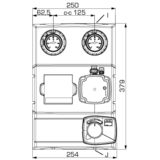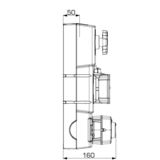 | | | | | | | | | |
| --- | --- | --- | --- | --- | --- | --- | --- | --- |
| Art.no. | Reference | DN | Pump | Controller type | Connection I | Connection J | Weight [kg] | Note |
| 61044700 | GRC242 | 25 | Grundfos UPM3 Hybride 25-70 | CRD227 | G 1" | G 1½" | 6,2 | Replaces 61041500 |
| 61044800 | GRC242 | 32 | Grundfos UPM3 Hybride 25-70 | CRD227 | G 1¼" | G 1½" | 6,4 | Replaces 61041600 |
Installation support
Install ESBE Circulation unit
Pump control – ESBE Circulation unit GRC200
Operation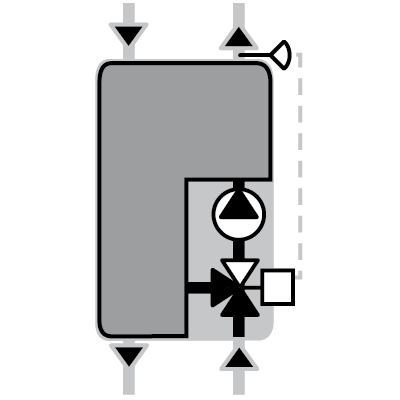 Installation example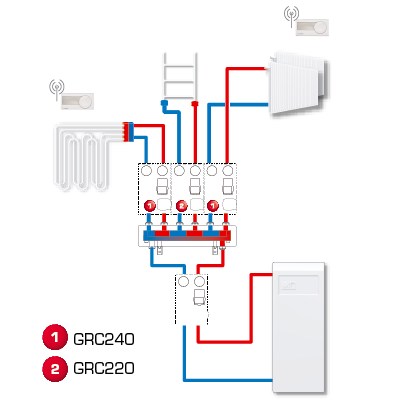 Technical data
Technical data
Pressure class:
PN 10
Working pressure:
1,0 MPa
Insulation:
EPP λ 0,036 W/mK
Media, Heating water:
in accordance with VDI2035
Media, Water/Glycol mixtures:
max. 50 % ; water / glycol mixtures are affecting the pump performance. In case of Applications where water / glycol mixtures are used, pump performance should be considered.
Media temperature - Series GRC221, GRC241:
min. +5°C, max. +100°C
Media temperature - Series GRC222, GRC242:
min. +5°C, max. +110°C
Ambient temperature:
min. 0°C, max. +55°C
Connections, Internal thread (G):
ISO 228/1
Connections, External thread (G):
ISO 228/1
Material, in contact with water
Components: Brass, Cast iron, Steel
Sealing materials: PTFE, Aramid fibre, EPDM
Integrated pump
Grundfos UPM3 25-70 Hybrid
Power supply:
230 ± 10% V AC, 50/60 Hz
Power consumption:
2 — 52 W
Enclosure rating:
IP X4D
Insulation class:
F
EEI (Energy Efficiency Index), circulation pump:
<0,20
Wilo PARA STG 25-130/8-60/0
Power supply:
230 ± 10% V AC, 50/60 Hz
Power consumption:
10 — 75 W
Enclosure rating:
IP X4D
Insulation class:
F
EEI (Energy Efficiency Index), circulation pump:
<0,21
Integrated valve
ESBE VRG432, DN20-8 QF
Pressure class:
PN10
Kvs:
8
max. Differential pressure drop:
100 kPa (1 bar)
Close off pressure:
200 kPa (2 bar)
Leakrate in % of flow:
<0,05%*
*:
Differential pressure 100 kPa (1 bar)
ESBE VRG432, DN25-12 QF
max. Differential pressure drop:
100 kPa (1 bar)
Close off pressure:
200 kPa (2 bar)
Leakrate in % of flow:
< 0,05%*
*:
Differential pressure 100kPa (1 bar)
Integrated controller
ESBE CRC217 230V 6Nm Wilo
Power supply:
230 ± 10% V AC, 50 Hz
Power consumption:
10 VA
Running time at max. speed:
30 s
Enclosure rating:
IP41
Protection class:
II
ERP temperature controls class:
III
Energy efficiency contribution:
1,5%
ESBE CRC217 230V 6Nm Grundfos
Power supply:
230 ± 10% V AC, 50 Hz
Power consumption:
10 VA
Running time at max. speed:
30 s
Enclosure rating:
IP41
Protection class:
II
ERP temperature controls class:
III
Energy efficiency contribution:
1,5%
ESBE CRD227 230V 6Nm Radio Wilo
Power supply:
Actuator unit: 230 ± 10% V AC, 50 Hz;
Room display unit, wireless: 2x 1,5 V LR6/AA
Battery endurance, wireless room display unit:
1 year
Power consumption:
10 VA
Running time at max. speed:
30 s
Enclosure rating:
Actuator unit: IP41;
Room display unit: IP20
Protection class:
II
ERP temperature controls class:
VII
Energy efficiency contribution:
3,5%
Radio frequency:
868 MHz
ESBE CRD227 230V 6Nm Radio Grundfos
Power supply:
Actuator unit: 230 ± 10% V AC, 50 Hz;
Room display unit, wireless: 2x 1,5 V LR6/AA
Power consumption:
10 VA
Enclosure rating:
Actuator unit: IP41;
Room display unit: IP20
Protection class:
II
ERP temperature controls class:
VII
Energy efficiency contribution:
3,5%
Conformity




Dimensioning
Wiring
Accessories and spare parts
Spare parts
| | | | | | | |
| --- | --- | --- | --- | --- | --- | --- |
| | Art No. | Reference | Designation | Note | Data sheet | Instruction manual |
| | 17055500 | CRB913 | ESBE CRB913 Room unit, wireless | | | |
| | 17056200 | CRA915 | ESBE CRA915 UK Plug 230V-12V | | | |
| | 67007000 | GSP963 | ESBE GSP963 Controller CRC217 QF Wilo | | | |
| | 67007100 | GSP963 | ESBE GSP963 Controller CRC217 QF Grundfos | | | |
| | 67007200 | GSP964 | ESBE GSP964 Controller CRD227 Radio QF Wilo | | | |
| | 67007300 | GSP964 | ESBE GSP964 Controller CRD227 Radio QF Grundfos | | | |
| | 67003400 | GSP911 | ESBE GSP911 Ball valves incl thermometer DN 25, 2 pcs/package | DN25 | | |
| | 67004000 | GSP911 | ESBE GSP911 Ball valves incl thermometer DN 32, 2 pcs/package | DN32 | | |
| | 67005700 | GSP932 | ESBE GSP932 Pump Wilo STG 25/8 | DN25-DN32 | | |
| | 67000500 | GSP907 | ESBE GSP907 Pump Grundfos Hybrid UPM3 25-70 | DN25-DN32 | | |
Options
| | | | | | | |
| --- | --- | --- | --- | --- | --- | --- |
| | Art No. | Reference | Designation | Note | Data sheet | Instruction manual |
| | 17056400 | CRB916 | ESBE CRB916 Communication radio module, wireless | | | |
| | 66001100 | GMA411 | ESBE GMA411 Hydraulic separation for 1 circulation unit. | | | |
| | 66001200 | GMA421 | ESBE GMA421 Manifold for 2 circulation units, without integrated hydraulic separator function. | | | |
| | 66001300 | GMA431 | ESBE GMA431 Manifold for 3 circulation units, without integrated hydraulic separator function. | | | |
| | 66001400 | GMA441 | ESBE GMA441 Manifold for 4 circulation units, without integrated hydraulic separator function. | | | |
| | 66001500 | GMA451 | ESBE GMA451 Manifold for 5 circulation units, without integrated hydraulic separator function. | | | |
| | 66001600 | GMA521 | ESBE GMA521 Manifold for 2 circulation units, with integrated hydraulic separator function. | | | |
| | 66001700 | GMA531 | ESBE GMA531 Manifold for 3 circulation units, with integrated hydraulic separator function. | | | |
Download area
| | | |
| --- | --- | --- |
| Type | Preview | Download |
| Data sheet | GRC200 | |
| Installation instruction | GRC200 | |
| Installation instruction | CRC217, CRD227 Controller (de, en, fr, hu, it, pl, ru, sv) | |
| Installation instruction | CRC217, CRD227 Controller (cs, da, el, es, fi, hr, ro) | |
| Installation instruction | GRC200 (DN25/DN32), Wilo Pump (de, en, fr, it) | |
| Installation instruction | GRC200 (DN25/DN32), Wilo Pump (cs, hu, pl, sk, sl) | |
| Installation instruction | GRC200 (DN25/DN32), Grundfos Pump | |
| Certificate | Declaration of Conformity, GRC220 | |
| Certificate | Declaration of Conformity, GRC240 | |
| Certificate | Declaration of Conformity UKCA, GRC220 | |
| Certificate | Declaration of Conformity UKCA, GRC240 | |
| Certificate | Building Product Declaration BPD3, GRC200 | |
| Image | GRC221, high res | |
| Image | GRC222, high res | |
| Image | GRC241, high res | |
| Image | GRC242, high res | |
| 2D Image | GRC221 & GRC241 | |
| 2D Image | GRC222 & GRC242 | |
| 3D drawing (stp file) | GRC221 & GRC241, DN25 | |
| 3D drawing (stp file) | GRC221 & GRC241, DN32 | |
| 3D drawing (stp file) | GRC222 & GRC242, DN25 | |
| 3D drawing (stp file) | GRC222 & GRC242, DN32 | |