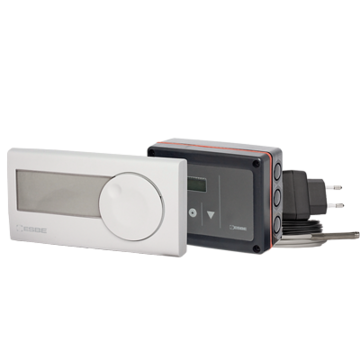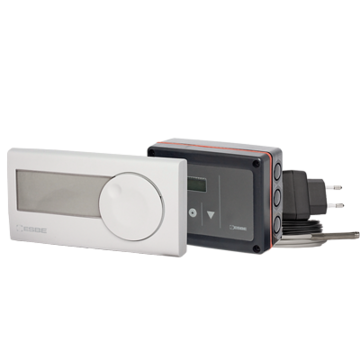 Controller
CUA100
For use with most 3-point 24 VAC actuator.
High level of comfort.
Series CUA100 is an indoor based controller to be used with most 3-point 24 VAC actuators. The controller is designed to provide a high level of comfort and at the same time provide energy savings for the house owner. The regulation is based on indoor sensor feedback and is changed by altering the target temperature in the room display unit. Serie CUA100 can also be used for constant flow temperature control.
Product range
CUA1xx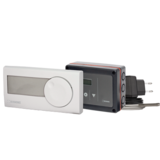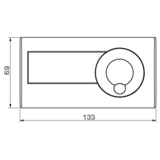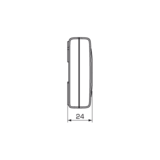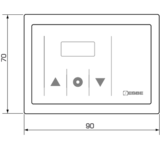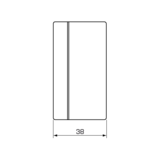 | | | | | | |
| --- | --- | --- | --- | --- | --- |
| Art.no. | Reference | Voltage [V AC] | Temperature range [°C] | Room display unit | Note |
| 12640100 | CUA111 | 230 | 5–95 | Cable | Without internal timer |
Installation support
Installation examples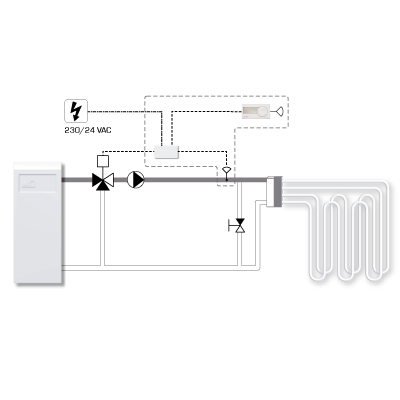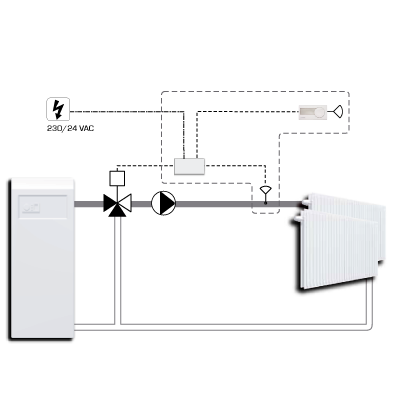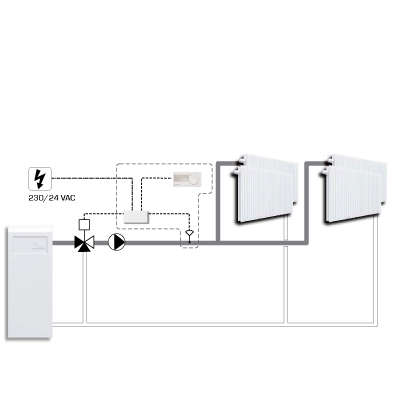 Technical data
Technical data
Enclosure rating:
Control box: IP54;
Room display unit: IP20
Protection class:
II
Power supply:
Control box: 230±10% VAC, 50 Hz;
Room display unit: 2x 1,5V LR6/AA
Power consumption:
10 VA
Battery endurance, wireless room display unit:
1 year
ERP temperature controls class:
IV
Energy efficiency contribution:
2 %
Radio frequency:
868MHz, ITU region 1 approved acc. to EN 300220-2
Running time:
120s (15 - 240s)
Weight:
0,8 kg
Cable length:
20 m
Max. allowed power consumption of actuator with 230 VAC adapter:
4 VA
Ambient temperature, max.:
+55 °C
Ambient temperature, min.:
-5 °C
Temperature range - Flow pipe sensor:
+5 to +95 °C
Temperature range - Room sensor:
+5 to +30 °C
Conformity




Wiring
Accessories and spare parts
Spare parts
| | | | | | |
| --- | --- | --- | --- | --- | --- |
| | Art No. | Reference | Designation | Data sheet | Instruction manual |
| | 17053100 | CRA911 | ESBE CRA911 Flow pipe sensor, 5m cable | | |
| | 17053300 | CRA912 | ESBE CRA912 Voltage adaptor, 230V — 24V | | |
| | 17055700 | CRB914 | ESBE CRB914 Communication cable, 20m | | |
| | 17055300 | CRB912 | ESBE CRB912 Room unit, cable | | |
| | 17055500 | CRB913 | ESBE CRB913 Room unit, wireless | | |
| | 17054100 | CUA911 | ESBE CUA911 Controller (CUA110 without room unit) | | |