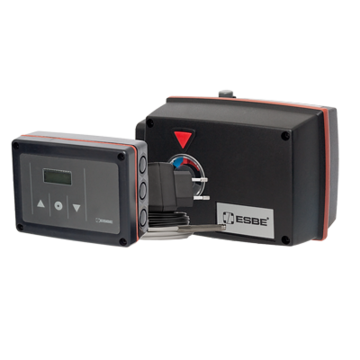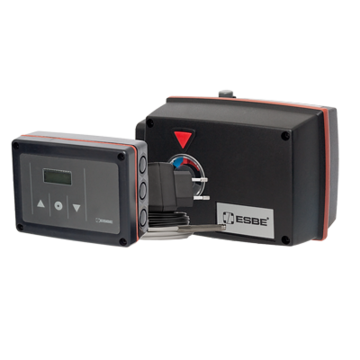 Controller
CRA120
Adjustable operating range.
For valves up to DN150.
Superb regulation.
Series CRA120 is a constant flow temperature controller suited for larger systems and valves such as 3F. The product is perfect for applications where a constant water temperature is required. Temperature settings is done by an easy-to-use push buttons and display interface. The controller is designed for operating rotary valves DN 15-150 and has an operating range of 30-180°. The series can easily be manually operated by a disconnection button and lever.
Product range
CRA12x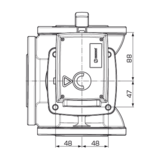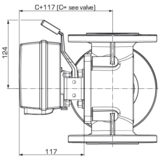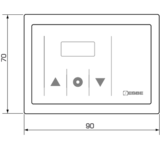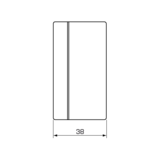 | | | | | | | |
| --- | --- | --- | --- | --- | --- | --- |
| Art.no. | Reference | Voltage [V AC] | Temperature range [°C] | Torque [Nm] | Replaces | Note |
| 12742100 | CRA121 | 230 | 5-95 | 15 | 12700500 | |
| 12742500 | CRA125 | 230 | 5-95 | 15 | | Transformer with UK plug |
| 12742200 | CRA122 | 24 | 5-95 | 15 | 12700100 | |
Installation support
How to mount ESBE Controller on ESBE valve
Installation examples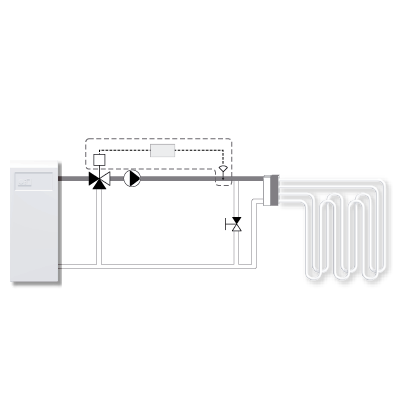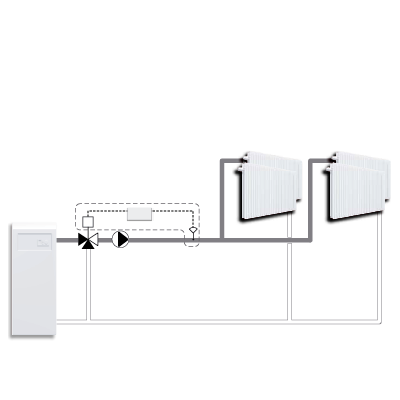 Technical data
Technical data
Enclosure rating:
Actuator unit: IP54;
Control box: IP54
Protection class:
II
Power supply:
24 ± 10% V AC, 50/60 Hz;
230 ± 10% V AC, 50 Hz
Power consumption:
24VAC: 3 VA;
230VAC: 10 VA
Torque:
15 Nm
Running time at max. speed:
120 s
Weight:
0,9 kg
Ambient temperature, max.:
+55 °C
Ambient temperature, min.:
-5 °C
Temperature range - Flow pipe sensor:
+5 to +95 °C
Conformity




Wiring
Accessories and spare parts
Adaptor Kits
| | | | | | | |
| --- | --- | --- | --- | --- | --- | --- |
| | Art No. | Reference | Designation | Note | Data sheet | Instruction manual |
| | 16053300 | VRG801 | ESBE VRG801 Adaptor kit ESBE valves series VRG, VRH, VRB, VRS, VRP. | Series 90, CRA120, CRC120. Order separately. | | |
| | 16051300 | 900 | ESBE 900 Adaptor kit ESBE valves series MG, G, F, BIV, T, TM, H, HG. | Series 90, CRA120, CRC120. Comes with the actuator or Controller. | | |
| | 16053900 | 900C | ESBE 900C Adaptor kit Honeywell Centra ZR, DR, DRG, DRU (DN15 - DN50). | Series 90, CRA120, CRC120, 90C*. Order separately. *The adaptor kit comes with a hand lever and for the controller series 90C this must be removed. It is not required for assembly. | | |
| | 16051700 | 900CK | ESBE 900CK Adaptor kit Honeywell Centra Kompakt DRK/ZRK. | Series 90, CRA120, CRC120, 90C*. Order separately. *The adaptor kit comes with a hand lever and for the controller series 90C this must be removed. It is not required for assembly. | | |
| | 16053600 | 900F | ESBE 900F Adaptor kit Meibes / Oventrop / Watts / BRV. | Series 90, CRA120, CRC120, 90C*. Order separately. *The adaptor kit comes with a hand lever and for the controller series 90C this must be removed. It is not required for assembly. | | |
| | 16052600 | 900L | ESBE 900L Adaptor kit Schneider Electric TRV / TAC-TRV valves. | Series 90, CRA120, CRC120, 90C*. Order separately. *The adaptor kit comes with a hand lever and for the controller series 90C this must be removed. It is not required for assembly. | | |
| | 16052500 | 900K | ESBE 900K Adaptor kit Siemens VBG31, VBI31, VBF21, VCI31. | Series 90, CRA120, CRC120, 90C*. Order separately. *The adaptor kit comes with a hand lever and for the controller series 90C this must be removed. It is not required for assembly. | | |
| | 16051400 | 900A | ESBE 900A Adaptor kit TA VTR valves. | Series 90, CRA120, CRC120, 90C*. Order separately. *The adaptor kit comes with a hand lever and for the controller series 90C this must be removed. It is not required for assembly. | | |
| | 16051500 | 900B | ESBE 900B Adaptor kit Viesmann valves DN 20-25 | Series 90, CRA120, CRC120, 90C*. Order separately. *The adaptor kit comes with a hand lever and for the controller series 90C this must be removed. It is not required for assembly. | | |